François Bourgeon
I discovered F. Bourgeon's art during a stay at Rennes, in the middle 80s, invited by Marie-Françoise Roy and Michel Coste. From them I learnt then, and keep learning today, a lot of mathematics, but Marie-Françoise and Michel also showed me the books of the series Les passagers du vent. I was impressed by the quality of the argument and the quality of the drawings, both unpaired! Later I read the other two stories, and each was again impressive. There is the very appealing feature in all these works, that the main character is always a girl, despite the presence of other essential men in the plot. Usually a quite determined and decisive young girl, even two of them. In addition there is the recreation of historical surroundings in the 18th or the 14th century in Europe, or a far future where every environment must be disguised from scratch. Either through documentation or pure invention, the ambient where the events take place (sometimes magical, sometimes crude and real) is fully detailed to a point that the reader cannot actually scape from a self contained round universe that fullfils all needs of the story. And, of course, there is always the immensity of Bourgeon's talent as a painter. Feast your eyes!
Les passagers du vent, Les compagnons du crépuscule by F. Bourgeon
Le cycle de Cyann by F. Bourgeon & C. Lacroix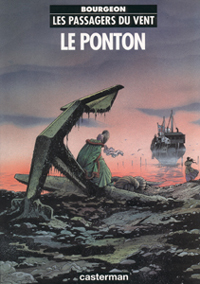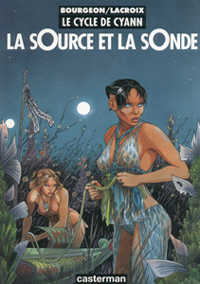 And you can read more about Les passagers du vent and Les compagnons du crépuscule in M. Thiebaut's Les chantiers d'une aventure and Dans le sillage des sirènes, Casterman. These two studies disclose the hidden clues of Bourgeon's recreation of history and legend: compulsory.